Is the UK pothole epidemic in danger of becoming an insurance industry issue? Could be, as poor road maintenance affects the chances of cyclists or motorcycle riders in particular being killed or seriously injured. Then there's the suspension damage which may well affect a car, van or lorry when under severe, emergency braking, weeks or months after the initial impact.
All these factors add up to complex claims and increased risk to road users. ALL users, even horse riders and pedestrians, are at risk as the roads crumble. But a relatively mild winter seems to have lulled the Highways Agency and Councils into a pleasant fug of inactivity when it comes to fixing potholes and resurfacing roads. There appears to be a post-pandemic policy of deliberate neglect and long delays in fixing roads across most of the UK. Add on the anti-car policies of Wales and Scotland, where most new road projects are now being cancelled in the name of climate change and you can see where this heading; carnage – and more claims.
Here's the word from LeaseCar UK;
Motoring experts LeaseCar.uk have analysed the latest data to uncover which councils received the most pothole damage claims and how many of those claims were compensated. A total of 43,947 damage claims were made across the UK between April 2018 and June 2021 and of these, less than a third (13,187)  were compensated.
Glasgow received the highest number of pothole damage claims (3,678) but only 3% (121) were settled in the driver's favour. Following behind are Shropshire (2,246) and Cheshire East (2,200) who placed second and third on the list for damage claims. Only 7% of motorists in Cheshire East received compensation while those in Shropshire fared slightly better at around the national average (34%).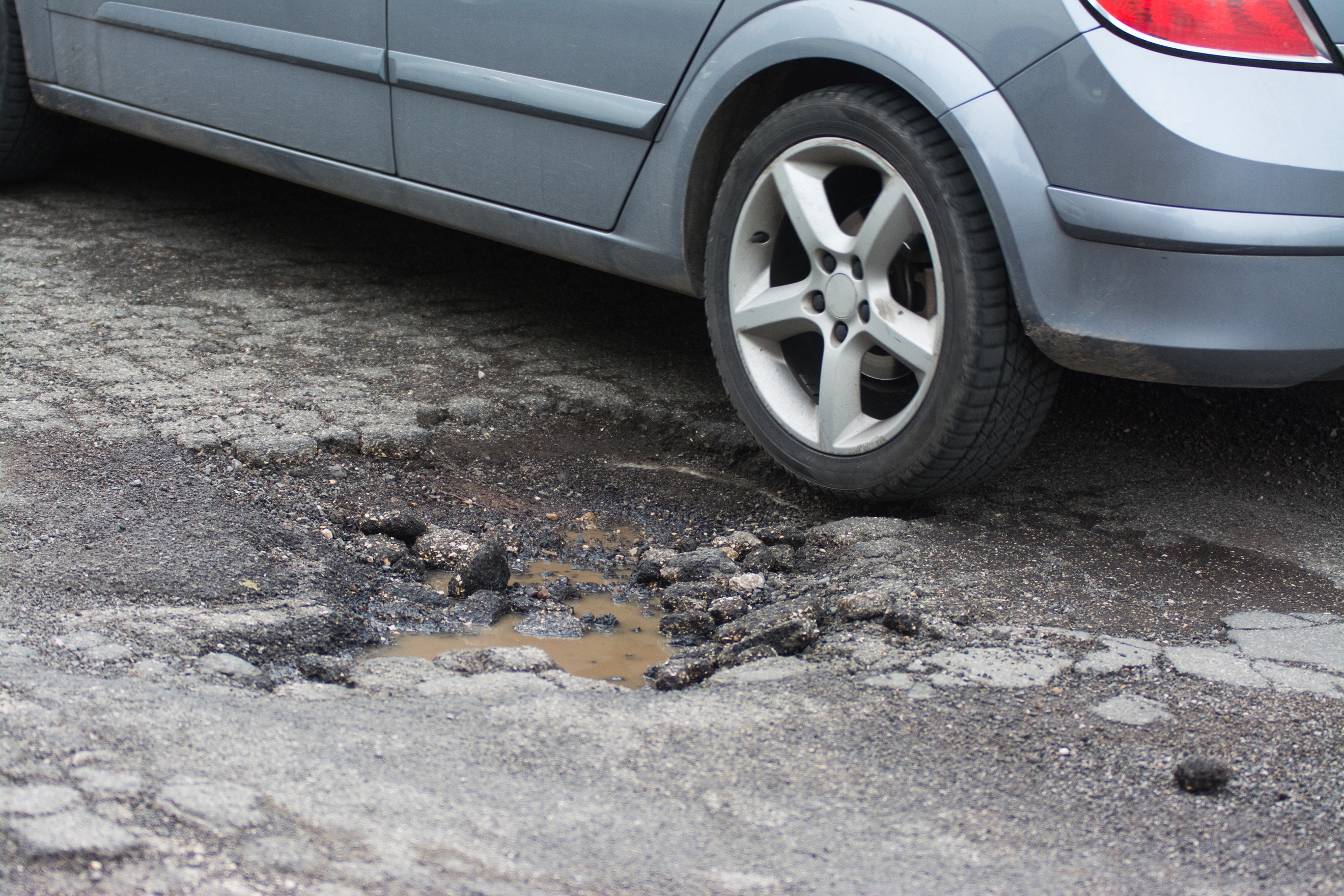 Credit: Shutterstock
CAN YOU CLAIM FOR POTHOLE DAMAGE?
Motorists are advised to write to the council if they believe their vehicle has been damaged because of potholes in order to receive compensation. However, compensation is only payable if a pothole has been reported and not subsequently fixed by the council in their set timescale leaving many drivers to foot the bill themselves. Damage from potholes can cost UK motorists hundreds if tyres need replacing and thousands if the suspension needs replacing.
Potholes are caused by water that seeps into the tarmac and then expands as temperatures drop below freezing during the winter, cracking the road surface. This makes winter the most likely time for motorists to damage their vehicles on potholes as the roads break up in cold conditions.
Driving over one can puncture or burst tyres, affect the condition of wheels, damage bodywork, and in extreme cases even damage a vehicle's suspension. And the problem doesn't appear to be going away as the latest data from the Department for Transport found that there has been no improvement in the condition of UK roads over recent years.
Tim Alcock from LeaseCar.uk said;"Potholes are one of the biggest causes of damage to vehicles which means lots of repair bills that someone needs to pay for. With another cold snap on the way and UK road conditions showing no signs of improvement, more drivers are likely to be damaging their vehicles driving over potholes. We understand that it is expensive for local councils to compensate pothole damage claims which is why tackling the pothole problem should be a priority for many councils.
"But with less than a third of claims being compensated, motorists are being left out of pocket for hundreds or thousands of pounds at a time when budgets are tight. Taking further measures to repair and prevent potholes would significantly improve safety for road users and reduce the likelihood of accidents from occurring. If you've driven over a pothole, make sure to pull up as soon as it's safe to do so to make sure no serious damage has been done to the car.
"If your car is no longer roadworthy then do not try to limp home or to a garage as this can be a risk to both yourself and other road users."